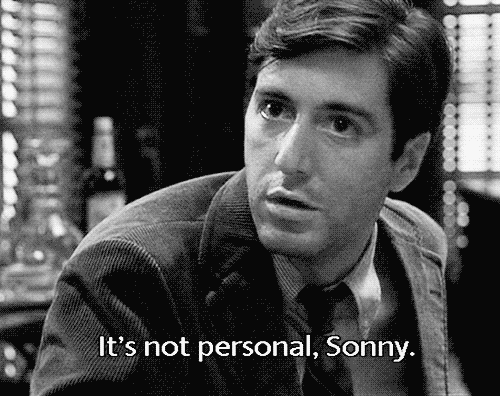 Here's an offer you can't refuse: a true partnership with your third-party vendors. Find out how with a few lessons from The Godfather.
In the first Godfather movie, there's an unshakable bond between Don Vito Corleone, and his consigliere/son, Tom Hagen. They trust each other and when Tom speaks, you can be sure he's saying exactly what Vito wants people to hear. But when you think about your relationship with your customer-facing vendors, you might feel that the relationship is more like Michael and Tom in Godfather II-- a shaky relationship based on mutual distrust, wariness, and differing goals. It's a frustrating partnership that ultimately doesn't work.
Now, chances are you run your business a little different than the Corleones, but if you have a partnership with a third-party vendor, you want it to be exactly that: a partnership. You should have the same goals and speak with the same voice. When a customer calls, emails, or interacts with social media, they should have no idea they are talking to a vendor. There should be a seamless connection between both parties.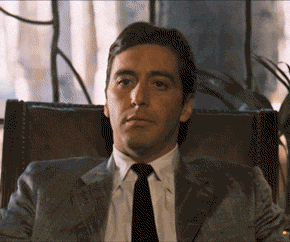 This is not the start of a great business relationship!
Managing your vendors means entering into a partnership where information, expertise, and goals are shared in both directions. Ultimately, it means a relationship where there is no daylight in between the parties. Managing this correctly makes your customer engagement a seamless process from first contact to their becoming an evangelist for your service.
An Offer You Can't Refuse: A Shared Outlook Leads To Shared Success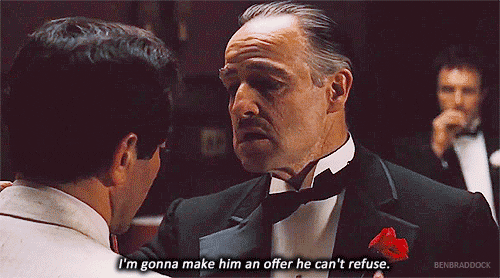 In the Godfather, both Tom and Don Vito wanted the family to thrive, and to have largely peaceful relationships with the other families. They knew what mattered the most. It's the same for you. What matters most is giving your contacts the best possible experience so that they turn into customers. In order for your partner to act successfully as you, there needs to be a shared sense of responsibility.
This means trust, and it means being willing to share what matters most to you. In practice, this means:
Sharing all relevant information. No one argues that you should give your vendor the code to the safe and the key that lets you get free Fritos from the vending machine. But you want to provide them all the information that allows them to succeed, and this means looping them in whenever new decisions are made about products, services, even your mission statement. Remember that, as far as the customer is concerned, they are you. If you say "Have a great day!" to customers, you don't want them saying "Have a productive and efficient afternoon."
Sharing customer engagement strategies. Your customer-facing partners might be engaged with your customers during every stage of the journey. Make sure they know what you expect at every step, so that you can provide the kind of customer engagement that keeps people coming back. It's important to remember that your partners need to be part of your sales and customer service alignment.
Keep them prepared for what they need. You're the leading expert on your business. You know that sales always have a spike in October. Your vendor might not know that, and might be caught unprepared. This leads not just to poor customer service, filled with lags and logjams, but a strained relationship. You'll be angry and they'll feel put-upon. No one wants that. Communication is always key.
If you paid attention to the first movie, you know that Don Vito often asked Tom for his advice. That's because both parties knew the other one had knowledge. That's a model to follow with your partner management.
What You Can Learn From Your Vendor
As we said, you are the leading expert in your business. Your partner knows their business, which is customer service. Information can and should be a two-way street, and you should recognize that they may have a lot to offer your company.
If you hire the best partner (more on that below), they'll be able to help you with your goals and strategies. Chances are, they have worked with many companies like yours, both in your field, and at whatever stage of the development process your business is in, from the startup stage to globe-bestriding behemoth. They have seen what works, and what doesn't. That doesn't mean that the vendor is in charge, of course. But, in life, you'd listen to someone who knows what they are talking about, regardless of your relationship. It should be the same in business.
It's more than just their prior experience you should be listening to, of course. Fishing stories only go so far. Remember that they also have the fish on the reel; that is, they are the ones who potentials have more contact with your sales and marketing funnel than you do. They are in many ways closer to your customers, and so are on the front lines of feedback. They'll see complaints, or can measure discontent just based on interaction. You'll want to make sure that you work with a company that knows to pay attention to everything: not just their script, but also to the feedback they are getting. Getting a company who can do that, and then listening to them, is one of the keys to your success.
Building A Lasting Partnership
Don't close the door on your vendor
If you haven't seen The Godfather, I apologize for all the references (but really: you should see The Godfather). In the second movie, Michael and Tom are not quite on different teams, but they barely work together, and have their eyes in other places. Tom is seeking outside work. He knows that everything is falling apart. It's no longer a viable long-term partnership. Not having a long-term partnership with your vendor might not be as searing as losing a brother, but it can be just as bad for business.
Creating a long-term partnership with a team that knows both what you are doing and who you are is vital. This means:
Going in with the long-term in mind. You aren't getting married, but this isn't a Tindr date either. Starting out thinking that you'll be using a vendor for a brief time and then letting them go will have everyone looking over their shoulder. The vendor will know that they are short-termers, and will have a foot outside the door. You won't have their focus, because they know that they'll need to find a different client soon enough.
Not just looking for the lowest price. What you want is the most competitive offer. The highest price doesn't always mean the best, of course, so you'll want to look at track records, history in your industry, and the expertise they show in preliminary meetings. Customer-facing vendors aren't a great place to cut corners. Getting a fair price for great service should be your goal.
Looking for vendors who will work with you. Everyone will work with you, but not everyone will work with You aren't just a client. You have specific needs in a specific industry for specific customers. Look for partners with experience in your field, and who hire representative based on your needs. Someone who says "my guys did a great job selling snake oil, so they can probably guide customers through a transition to the cloud."
Understanding how your partners operate. Look at their business models. Look to see how it integrates with yours (or doesn't). This will help you choose the right vendor, and will make for a smoother working relationship.
The most important thing you can do at the outset is to set the parameters of your relationship. Understand where the vendor fits in with your operation, so that:
They are set up for success
They know what to do without the need for constant guidance
There aren't gaps between expectations (that is, gaps between your expectations and theirs. You want to be on the same page on this. It's different than a gap between expectations and deliverance, but that's a different beast).
Remember that you are going to want to perform a consistent and thoroughgoing analysis of metrics, including tangible (meeting budget requirements, delivering on services, customer engagement and sales/conversion stats) and intangible (customer satisfaction, flexibility to change with your goals, willingness to offer solutions). That's fair to both parties, and can keep the relationship on track.
Your customer experience depends on having a two-way, mutually beneficial relationship with your partners, where you share information and expectations. Hiring the right one can be the difference between a successful offering and a failure. Really, it's an offer you can't refuse.
Every customer needs to be treated like they are the most important one in the world, and that means having a vendor who acts like an extension of your company. At RDI-Connect, we act as your partner, making sure that every prospect and customer is treated to the most meaningful experience across all channels. For more information, please download our white paper The Customer Experience Playbook: Providing Unmatched Service in Today's Multichannel Landscape. Connect with us today to learn more about the services we can provide your business.